German Real World Laboratories: Fundamental H2-Research
Following a tender by the German government, called "Competition of Ideas", 20 out of approximately 90 contenders were selected to conduct the practical part of the future research on carbon-neutral energy production in the coming years in what is called Real World Laboratories.
Those laboratories distinguish themselves by
A close cooperation of politics and administration
Working together with science, economy and civil society
The idea behind: Apply research approaches directly and develop them in an unbureaucratic manner.
Investors can learn from German Real World Laboratories
An excellent example for one of the first Real World Laboratories of the energy transition in Germany is Westkueste100, the project of a consortium of companies in Northern Germany, connected to energy consumption or production.
Investors can benefit from the results of the research and get the taylor-made informations from assoluta consulting in support of  their future investments into targetted industries.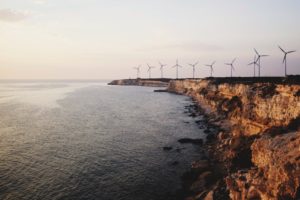 At the heart of the project work at Westkueste100 is the joint vision of comprehensive cross-sector partnership – from the generation of green electricity to the production of synthetic hydrocarbons, including the utilisation of heat. Unused electricity from wind energy will be converted into green hydrogen.
The Westkueste100 research and development project aims to produce green hydrogen from offshore wind energy and utilise the waste heat generated in the process. The green hydrogen will then be used to produce climate-friendly aviation fuels and also fed into gas grids. Unavoidable CO2 from a regional cement plant in Schleswig-Holstein will be used in the fuel manufacturing process.
100 Million Euros Investment
Along comes an investment of roughly 100 Mio Euro by the German government for the 20 research centres. Players in the political arena warn that after bad experiences in the past acceptance and participation by the public is a must. Otherwise, implementation of technologies might come to a standstill or will face significant resistance as the growing civic protests against wind turbines in the vicinity of urban settlements have shown.
Briefly after the announcement by the German government to fund Real World Laboratories, budgets for other projects of the national energy research programme were cut in November 2019 from € 636 to € 537million. The reasons for these cuttings are not quite clear, but may lie in a switching focus: ambitious political initiatives for full decarbonization by 2050 and an increasing pressure for digitization as an expression of continous political manoeuvring in difficult times.
(Sources: Hamburger Abendblatt; tageszeitung/taz; Kieler Nachrichten; Federal Ministry for Economic Affairs and Energy; Reallabor Westküste100)